Coming RPG Attractions and Just Released RPG's
-- Arx Fatalis (PC) from JoWood (Released)
-- Baldur's Gate: Dark Alliance (GameCube) (Released)
-- Breath of Fire V: Dragon Quarter (Release 2/2003)
-- Dark Cloud 2
-- Dragon Warrior VIII (Just Announced)
-- Dungeons & Dragons Heroes (PS2)
-- Evolution Worlds (GameCube) (Released 12/03/2002)
-- Final Fantasy XI (Japanese, online only)
-- Final Fantasy X-2 (PS2) (Japanese Release 3/2003)
-- Gladius (Gladiator Combat RPG from LucasArts)
-- Gothic 2
-- Legend of Zelda GBA
-- Lethal Dreams (Russobit) (Strategy-RPG)
-- Mistmare (PC) (Late 1/2003 release)
-- Morrowind (PC, XBox) add-on Tribunal from Bethesda (Released)
-- Neverwinter Nights' 2 Expansions
-- Phantasy Star Collection (Released)
-- Star Ocean 3 Till the End of Time
-- Star Wars: Knights of the Old Republic (PC and XBox)
CLICK IMAGE TO GO TO SEPARATE LIONHEART PAGE

CLICK IMAGE TO GO TO SEPARATE LIONHEART PAGE
FINAL FANTASY X-2 SCREENS







EVOLUTION WORLDS PRESS RELEASE
The first traditional RPG for the GameCube.
Evolution Worlds is the next episode in the epic adventure of heroes, Mag and Linear, from Evolution and Evolution 2.
After the demise of a superior ancient civilization, Cyframe technology -- enchanted mechanical body weaponry -- is discovered. Every young adolescent aspires to be a Cyframe "Adventurer," including Evolution Worlds' feisty hero, Mag.
Mag and his friend, the enigmatic heroine, Linear, embark on a journey to discover the mysterious Evolutia. Evil warriors of the Eighth Empire are also trying to find Evolutia, the last piece of the ancient world.
Mag, Linear, and their watchful butler Gre Nade, along with friends Chain Gun and Pepper Spray, set out on their perilous journey to save the world from treacherous evil forces, and uncover the truth of Evolutia and the ancient world!
Game Features:

EW is the latest chronicle in the series featuring the best-selling Dreamcast RPG in the U.S., Evolution, and its highly acclaimed sequel, Evolution 2.
Gameplay utilizes 360-degree turn-based tactical combat unique to GameCube.
EW features 40+ hours of gameplay and includes more than 100 characters.
Graphically stunning visuals and special effects are showcased throughout the game.
New features include extra voices, improved visuals, hidden features and new game technology.
NEVERWINTER NIGHTS 2 EXPANSION PACKS

Neverwinter Nights: Shadows of Undrentide will include a new 40-hour single player campaign as well as game features new to Neverwinter Nights, such as additional D&D skills, feats, classes, monsters, weapons and spells. In addition, the pack will include two new tile sets and other assets for use in the Aurora toolset that will enable amateur module designers to create completely different worlds.

Neverwinter Nights: Shadows of Undrentide offers role playing fans even more D&D features than the groundbreaking original. Additions include, new skills, including Tumble and Appraise; new feats, such as Divine Might, Extra Music and Bullheaded; new weapons, such as Holy Water Flasks and Choking Powder; new prestige classes, like Harper Scout; new monsters from the D&D universe, including Medusa, Cockatrice, Sphinx, and Female Fire Giant; and dozens of new spells.

In addition, the expansion pack equips amateur module makers with additional content for the Neverwinter Nights Aurora Toolset, the groundbreaking software included with the full game that allows players to create their own universes, quests and storylines. The toolset will be augmented with all new tile sets for creation of new environments as well as new "Wizards," or automated guides, to help gamers build and play adventures of their own creation.

A second expansion pack with a new Neverwinter Nights campaign and even more features is also in the works for Summer 2003 and is under development exclusively at BioWare Corp.
FROM THE DUNGEONS & DRAGONS HEROES WEBSITE
Dungeons & Dragons Heroes will take gamers on an adventure of epic proportions, said Ann Marie Bland, director of brand marketing for Infogrames Beverly studio. The heart of
Dungeons & Dragons
has always been the social interaction and cooperation between players to successfully complete their quest, and it is no different with Dungeons & Dragons Heroes. Weve carefully crafted that element, allowing four players at a time to experience the
Dungeons & Dragons
world.
Leading the design team of Dungeons & Dragons Heroes is multi-award-winning designer Brenda Brathwaite, who most recently worked on the critically acclaimed Wizardry 8. What we are doing with Dungeons & Dragons Heroes is designing a game with a decidedly action-oriented flair that will be easy for even a new player to grasp but will immerse the seasoned
D&D
® player in an authentic
D&D
adventure that will give them the same feeling they experienced with the classic tabletop roleplaying game, said Brathwaite. Each new game will be a different and exciting experience depending on the mix of characters players choose to venture out with, giving the game great replayability.
Anticipated features for the game include the ability to play as one of four distinct hero characters drawn from the main Dungeons & Dragons character classes of Fighter, Wizard, Cleric and Rogue, each with 40-plus combat moves and special abilities unique to their character; authentic D&D Monsters, many drawn directly from the third edition of Dungeons & Dragons Monster Manual; a Skills, Feats and Character Building system inspired by the third edition of the Dungeons & Dragons Players Handbook; interactive levels spanning multiple environments ranging from a working forge to a magically suspended castle in the sky; and visually stunning spell and magical effects with weapon and magical upgrades appearing on the in-game characters.
Dungeons & Dragons Heroes is being developed by Infogrames Hunt Valley studio. The first opportunity to see Dungeons & Dragons Heroes in action will be May 2224, 2002 at the annual Electronic Entertainment Expo (E3) in Los Angeles. Visit the Dungeons & Dragons Heroes Web site at www.dungeonsanddragonsheroes.com
PHANTASY STAR COLLECTION (GBA)
A compilation of the first three Phantasy Star products, Collection brings classic sci-fi RPG gaming to the Game Boy® Advance. This RPG series revolutionized the genre with immersive 3-D dungeons, huge environments to explore and hours of gameplay.
Phantasy Star- As Alis Landale it's up to you to defeat King Lassic and the evil his reign has brought to the galaxy! With a party of three, you will travel the vast Algo Solar System, doing battle against Lassic's minions with a myriad of wepons, magical spells, and armor.
Phantasy Star II- The planet Mota is facing danger once again! An unknown evil is overtaking the planet and everything is effected by it-the climate, the machinery, even nature! As Rolf, you must unlock the mystery behind this dark force and restore the peace to the planet. With a party of three, you'll become an outlaw, travel to a distant planet, and battle monsters on your epic journey.
Phantasy Star III- Dark Forces still remain. Conquer these monstrous mutations. Fight them with swords, knives, bow, and even your wits, as you embark on a journey so vast is spawns three generations. You'll trek through 7 distant lands to reach one of four surprise endings.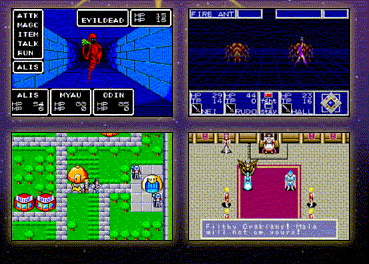 LUCASARTS AND BIOWARE TO DEVELOP STAR WARS KNIGHTS OF THE OLD REPUBLIC, A NEW ROLE PLAYING GAME FOR PC AND NEXT GENERATION CONSOLES

Two Leading Interactive Game Developers Join to Create
First Star Wars RPG



SAN RAFAEL, Calif. -- July 25, 2000 -- LucasArts Entertainment Company LLC and BioWare Corp. today announced a partnership to create the first Star Wars role playing game (RPG) for PC and next generation video game systems. Expected to release in 2002, Star Wars: Knights of the Old Republic will be set in a time period prior to the Star Wars films.

The agreement combines Star Wars, the most successful film-based license in interactive entertainment, with BioWare's considerable development expertise in the role playing genre. BioWare created the critical and commercial hit RPG Baldur's Gate. The Star Wars role playing game will be developed by BioWare and marketed and distributed by LucasArts.

For the game, LucasArts and BioWare are creating an entirely original storyline set some four thousand years before Star Wars: Episode I. The ancient era is dominated by an epic struggle between the Jedi and the evil Sith.

"This collaboration with BioWare further represents LucasArts' long-term strategy to build relationships with the world's premier game developers," says Simon Jeffery, president of LucasArts. "BioWare has consistently delivered compelling games with rich and deeply engaging stories. Together, we aim to create a milestone role playing game set within a unique and largely unexplored area of the Star Wars universe."

"The opportunity to create a richly detailed new chapter in the Star Wars universe is incredibly exciting for us," says Dr. Greg Zeschuk, joint CEO of BioWare.

"We are honored to be working with the extremely talented folks at LucasArts, developing a role playing game based upon one of the most high-profile licenses in the world," added Dr. Ray Muzyka, joint CEO of BioWare.
CAPCOM® ANNOUNCES NEW DETAIL ON BREATH OF FIRE: DRAGON QUARTER
CAPCOMS PERENIAL RPG, BREATH OF FIRE FORGES A NEW ROAD IN BREATH OF FIRE: DRAGON QUARTER

NEW DESIGN APPROACH INCLUDES NEW VISUALS AND COMBAT STYLES

SUNNYVALE, CA November 11, 2002 Capcom® today revealed new details regarding Breath of Fire: Dragon Quarter for the PlayStation®2 computer entertainment system. Scheduled to release this February, Breath of Fire: Dragon Quarter, is the latest installment in the highly acclaimed RPG series that originally debuted in 1993 and has since then sold millions of units worldwide. Renowned for its innovative gameplay mechanics, this latest incarnation redefines the Breath of Fire role-playing game with a whole new 3D-world look, an engrossing storyline, brand new stylized visuals, innovativegameplay features and a new survival style of game play. Entertainment Software Rating Board (ESRB) rating is pending.

Breath of Fire: Dragon Quarter boasts the following features:

* Survival Game Play Players are challenged with an abundance of enemies and a large variety of strategic elements such as deciding whether to fight or avoid enemies, or timing when to attack.
* New Visual Design Capcom pushes past tradition and develops a completely unique visual style. This new style allows for stunningly clear and detailed characters and a game world that will bear new surprises around every corner.
* PETS (Positive Encounter and Tactics System) A revolutionary feature to RPGs in which players can set up traps and decoys in the environment priorto going into battle against monsters.
* Combo System An advanced combat system allows players to build upon attacks by connecting various weapon skills. As players connect similar levels of attacks, they execute a linked combo that inflicts bonus damage on top of the regular attack damage. Learning this system is the key to a successful journey.
* Ability Point System All actions, including spells and attacks, cost Ability Points (APs). The accumulation of APs can be used to deliver more powerful attacks or combos.
* SOL (Scenario Overlay System) What the player has accomplished up to a certain point carries over to the newly restarted game. Based on the players previous accomplishments, not only do experience points and items carry over but additional in-game events and dungeons will appear so that players can learn more about the story.

Set in an underground world that time has forgotten, Breath of Fire: Dragon Quarter takes players on a journey to the surface of the earth. An ecological catastrophe has devastated the planet, forcing a civilization to settle and live in the ancient underground city, "Shelter." Generations have passed since man has seen the sky and no one has any recollection of how life once was. Ryu, a Ranger for the underground civilization, is on his routine patrol assignment when he has a sudden "awakening" and is determined to discover what lurks above. Follow Ryu, and other members of the underground society, as they fight their way to the surface against monsters and adversaries.




Final Fantasy X-2 Coming!
Many websites are reporting that, Square has scheduled a March 2003 Japan release for the company's first direct sequel to one of its Final Fantasy games. The game will hone in on Final Fantasy X characters, Yuna and Rikku, particularly the former. Square plans to release the game in the US.
GLADIUS PRESS RELEASE
Epic Combat Role-Playing Game Expected in Spring 2003 for PlayStation 2, Xbox, and Nintendo GameCube
SAN RAFAEL, Calif. -- May 9, 2002 -- The brutal and spectacular gladiator battles of the ancient world serve as inspiration for Gladius, a turn-based action role-playing (RPG) game from LucasArts Entertainment Company LLC. Gladius follows the grand saga of two young heroes, Ursula and Valens, as they recruit and train a team of warriors to contend in the fiercely competitive gladiator games. The game supports both single and multiplayer modes and is expected to release spring 2003 on PlayStation 2, Xbox and GameCube.
At the heart of Gladius is a unique mix of dynamic game play that requires players to develop and manage a school of gladiators who, over time, gain experience, learn new skills, improve their abilities and finally test their might in epic battles. Players fight with deadly weapons and powerful magic, learn vital combat tactics, and enhance and customize characters.
"Gladius takes action RPG to a whole new level," says Tom Byron, director of product marketing for LucasArts. "Besides signaling LucasArts' return to original game development, Gladius features a distinct style of play that is wrapped in an epic storyline. Players will experience a game that has incredible depth in terms of character development, but also has a unique layer of strategy related to how players manage and balance their team."
The overall scope of Gladius is huge, offering an estimated 36 hours of play in each of the game's two story lines which take players on a challenging journey across four diverse geographical regions. Each land contains a variety of warriors that players must recruit and train. Battles occur throughout the game's 20 arenas and 12 other locations. During fights players have a high level of interaction by way of an arcade style swing meter which enhances the power of attacks. A successful fight will earn victorious players highly coveted certificates and the approval of the Emperor. With each certificate collected, players move one step closer to unlocking the next region.
Players control a school of gladiators that can come from 16 unique classes, including the powerful Imperial Legionary; the witches of the Galdr class, who can sing magical songs and chants; and the javelin throwing Peltast class. In all, the game offers more than 100 customizable character types, hundreds of skills, and over 400 unique weapons, helmets, shields, and other accessories with which to equip warriors.
In Gladius, players may choose to take on the role of Ursula or Valens. Ursula, from the northern land of Nordagh, is the daughter of a great barbarian king. Valens is the son of one of Imperia's greatest gladiators. A bloody conflict between their two homelands gave rise to a vengeful dark god, which nearly destroyed all of mankind. Only with the help of the revered Valkyrie was the dark god defeated, but it came at a great cost of many lives. This gave rise to an uneasy peace that has existed for decades between the two lands. Now the two young heroes must fulfill their destinies to keep the world from heading into another disastrous war. Ursula and Valens join forces and travel across many lands, competing in gladiator tournaments where they recruit a variety of warriors. They also become immersed in the evil plot to revive the dark god. Once this wicked plan is put into action, the gladiator games cease and the small band of fighters go on a challenging quest to solve the mystery of the dark god an defeat those who would bring him back to the land of the living.
Gladius features a story mode as well as exhibition battles against computer-controlled opponents or up to four players in cooperative mode. Upon finishing the game, the tournament system remains open so players can continue to build up their characters and explore the game's four unique territories.
Bethesda Softworks Press Release for Tribunal, Morrowind Expansion Pack
The Elder Scrolls III: Tribunal Goes Gold
Highly Anticipated Expansion to Morrowind Ships to Stores Next Week
Rockville, MD - November 1, 2002 - Bethesda Softworks announced today that The Elder Scrolls III: Tribunal the expansion pack for its critically acclaimed RPG, The Elder Scrolls III: Morrowind for PC has gone to gold master and will begin arriving in stores throughout North America late next week. Tribunal introduces additional content and features into the already staggering game world of Morrowind, and can be experienced by any player at any point. Morrowind has won more than 40 awards, including Editor's Choice awards from PC Gamer, Computer Gaming World, and Computer Games Magazine.
In Tribunal, a ruthless new king has taken the throne of Morrowind, while an aging god drifts deeper into madness. Into this chaos you are thrust, with deadly assassins close behind you and Morrowind's uncertain future ahead. Your journey will lead you to Mournhold, capital city of Morrowind, to the Clockwork City of Sotha Sil, and through massive, epic-sized dungeons.
Strange and deadly creatures await you in Tribunal, including goblins, lich lords, and the mysterious Fabricants. Powerful new armor and weapons will aid you in your survival, and your adventures will be documented in the improved journal system and an annotatable map. The fate of Morrowind is in your hands?again.
About Morrowind
Morrowind is an epic, open-ended single-player RPG in which a player can create and play any kind of character imaginable. Players can choose to follow the main storyline and find the source of the evil blight that plagues the land, or set off on their own to explore strange locations and develop their character based on their actions throughout the game. Featuring stunning 3D graphics, open-ended gameplay, and an incredible level of detail and interactivity, Morrowind offers a gameplay experience like no other.
About Bethesda Softworks
Headquartered in Rockville, MD, Bethesda Softworks LLC is a developer and publisher of entertainment software and has published numerous award-winning titles, including The Elder Scrolls® series, the Terminator series, and Sea Dogs®. Its full product line spans the sports, racing, RPG, strategy and action genres. For more information on Bethesda Softworks? products, visit www.bethsoft.com <http://www.bethsoft.com>.
Bethesda Softworks LLC is a ZeniMax Media company. The Elder Scrolls, Morrowind, Tribunal, Sea Dogs, Bethesda Softworks and ZeniMax are registered trademarks or trademarks of ZeniMax Media Inc. All Rights Reserved.
Mistmare A Fantasy Role Playing Adventure Game Press Release (Arxel Tribe & Sinister Systems)

TAKE ON THE ROLE of a sorcerer-monk in a mysterious world, a fantasy image of Medieval Europe. Your mystical and terrifying quest will take you to Athens, Paris, London, Antwerp, Avignon, Rome, Krakow and Stockholm. On the way, forge your hero to your liking through his attributes (strength; dexterity; health; willpower, etc), fighting skills (fighting schools, weapon proficiency), adventure skills (lore; Acrobatics; observation; lock picking, etc) an spells family (Liturgy or Alchemy).

IMMERSE yourself in a complete 3D environment, created with the best graphic tools (Alias|Wavefront Maya and Lithtech3.2 engine). A detailed universe with more than 10,000 polygons displayed per single level. Custom effects (volumetric explosions, ) and pre-coded particle systems, dynamic lighting and reflection mapping will allow for in-game high-level details: real time weather and time of day effects like rain, snow, lighting bolts, sunsets, sunny or cloudy days and nights.

INTERACT with over 100 realistic, fully-fleshed-out characters with a high level of model details (over 1,000 polygons) with lifelike facial expressions and body language including phoneme-based lip-synching and facial animation, real time animation blending, clothing and hair effects with dynamic LOD.

FIGHT your opponents, choosing carefully not only your weapons but also the combat school you wish to specialise in (Military; Oriental; Norse; Barbaric). The combat system offers a mix of grasping 3D multi-opponents swash buckling and tactics (pre-set parameters depending on the situation and nature of your enemies).

CAST your liturgical and alchemical spells on your foes + TRAP & CONJURE over 35 unique monsters - each with different features, models, specific A.I. and combat tactics to make them your minions in the battles to come.
Lethal Dreams Information
Developer: Boolat Games
Category: RPG strategy
This story began in wonderful city Chron in the world Adanu. Six young magicians - Zerin, Mirtis, Cruan, Sirimbe, Verithion and Inanna - from nation Alvern had been studying the basics of the magic with Wintrix, the famous Master of All Paths.
TOnce an astral pilgrims presented to Wintrix a beautiful crystal flower that was found in one outmost world. It seemed that the artifact possessed enormous hidden power and unknown abilities.
One evening after invisible wave of tremendous power broke out from the Wintrix's cabinet the students found out that their teacher disappeared. The crystal flower buzzed like a cracked bell and radiated gradually fading light. And one of its petal vanished.
What really happened? Who can survive in that hostile world? Who can resist insane agony of those miserable more-dead-than-alive?
Key Features

You will move to the way out of the existing situation through the multitude of different worlds' (more then 60) incarnations. These are worlds' incarnations created by a power of mind of unique by nature creatures, named people.
Unique spells (more than 40) of your Magic School will help you to prevail over your enemy even if he is much stronger than you. Your creatures (more than 40) that called for will help you to capture more and more domains. And your diplomatic talent will allow you to win over to your side a great number of NPC allies.
Solve a riddle of this world and may be after that you will be allowed to know it's the deepest secrets and to test the power of the Greatest of the Alverns.

Target Audience: RPG and strategy fans

Final Fantasy X-2 Screenshots